{Special} Missy
On the 14th of April this year my sweet Missy cat got sick. She stopped eating and we became worried so took her to the vet. They ran tests but came up with nothing. She got some medication to try help and then we were goign to try more tests after we had seen if the meds would work or not.
On the 17th she came stumbling into my office, I was so scared and freaked out, to me it looked like she had had a stroke. She couldn't use her back legs, she was crying, and I'm sure she was so scared and unsure of what was happening :'(
We rushed her to the vet, who confirmed she had, had a stroke. We had to leave her there for observation and the next day would tell if she was going to make it.
The 18th came and we waited to hear the news. Sadly the vet called and told us she had run more tests and it appeared to be cancer in her intestine. She said the cancer was large and there wasn't anyway of knowing if she would recover with treatment, especially due to the stroke she had had hte night before.
The vet suggested we move forward to help her out of the obvious pain she was feeling. This decision was not one I could come to lightly. Missy was 16 years old and had been with me from the day she was born. When I was 11 my sister had a cat that fell pregnant. My parents agreed that I would be able to keep one of the babies to be my kitty. I was home from school when it all happened. My sisters kitty Cuddles started having her babies. Missy was the 3rd kitty to be born and I remember thinking when she came that she was the one!
She was snow white with dark ears and tail. And so our journay began. for 16 glorious years we loved each other and I know I will love her till my dying day! And will miss her terribly!
To help me cover her medical bills I launched a special for photoshoots. Since then the special has closed but in the next little while I will be sharing blog posts on the shoots I have done and the wonderful people who helped me and Missy through this time.
I hope you enjoy the images.
xx
Tanya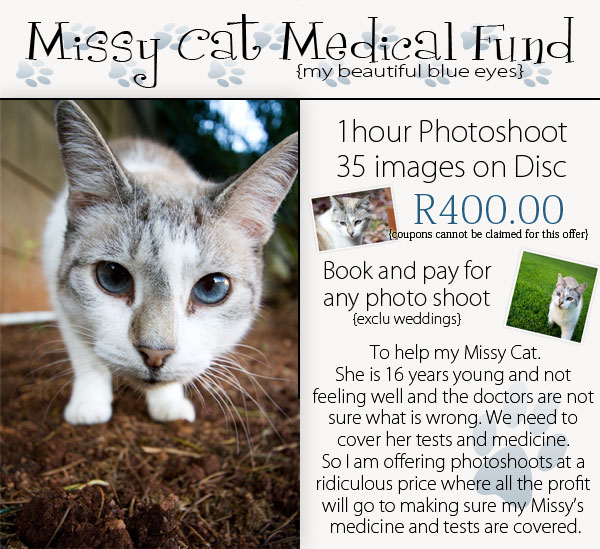 Comments
comments